---
APEXUS. A NATIONAL LEADER PROVIDING INNOVATIVE SOLUTIONS FOR THE SAFETY NET COMMUNITY.
Apexus is the nation's leader in creating reliable health care solutions by enhancing access to medications and improving patient care. We achieve these outcomes through innovative ambulatory pharmacy solutions and support of compliant 340B programs.
APEXUS SOLUTIONS
WHAT IS THE 340B PRIME VENDOR PROGRAM?
The 340B Prime Vendor Program (PVP) is managed by Apexus through a contract awarded by the Health Resources and Services Administration (HRSA). HRSA is responsible for administering the 340B Drug Pricing Program.
HRSA relies on Apexus to communicate policy and provide award-winning education, training and support to all 340B stakeholders.
The 340B PVP is a voluntary, transparent program for all stakeholders.
There is no fee for eligible covered entities to enroll and participate in the Prime Vendor Program.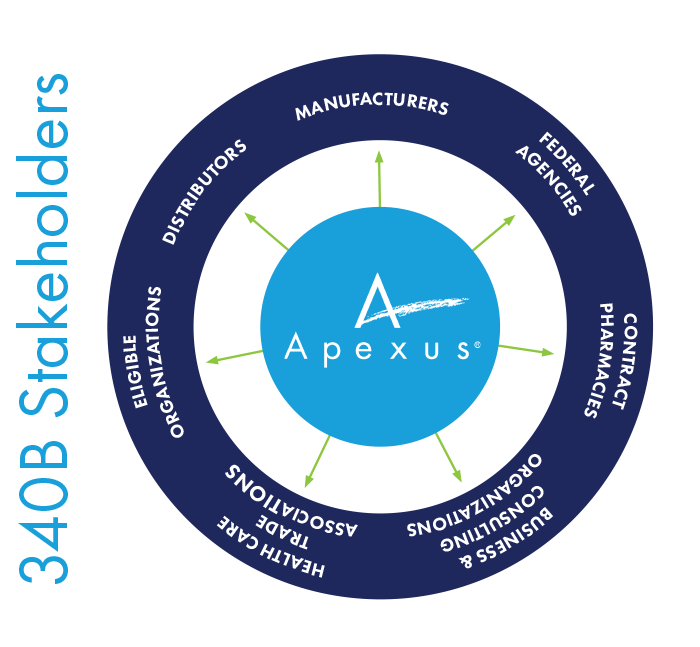 BENEFITS OF APEXUS AS THE SINGLE 340B PRIME VENDOR
EFFECTIVE AGGREGATION OF PURCHASING VOLUME
The single Prime Vendor model leverages the collective purchasing volume of all 340B covered entities, providing discounted access to drugs for those who need it most: community safety net providers that provide more than a third of all patient care in the nation, according to a report by the Agency for Healthcare Research and Quality.
OPERATIONAL EFFICIENCY AND SUPPORT OF RELIABLE DATA
As a single organization serving as the Prime Vendor, we streamline contracting, membership determination/communication, distribution channels, and reporting of sales and other critical information back to HRSA.
SUPPORT OF PROGRAM INTEGRITY
Pricing rules with the wholesalers are monitored by the Prime Vendor to support compliance of manufacturers and covered entities.
SINGLE POINT OF COLLABORATION
The Prime Vendor is the single point of collaboration for pharmacy transactions, reporting and compliance support.
FULLY TRANSPARENT MODEL
Apexus, as the single Prime Vendor, operates with a fully transparent model between stakeholders.
APEXUS ADVANCED 340B OPERATIONS CERTIFICATE
THE 340B INDUSTRY STANDARD LEADERSHIP ROLE CERTIFICATION
Be an expert. The Apexus Advanced 340B Operations Certificate is designed to help participants improve their program integrity and compliance.
Course curriculum is tailored to stakeholders who are in high-impact positions regarding 340B implementation: 340B managers, pharmacy directors, and purchasers/buyers, as well as suppliers and consultants.
Competency is assessed by passing an entrance exam to enroll in the program and by earning a certificate designating successful completion of all course work and final exam. Apexus offers a "look up" tool to confirm program graduates, known as 340B Apexus Certified Experts, or "340B ACEs."
WHAT IS ACENTRUS SPECIALTY?
Acentrus Specialty is the Integrated Care Network and health system solution for specialty pharmacy, addressing the largest and fastest growing area of health care expenditures by empowering members to deliver exceptional, cost-effective, locally-integrated care.
We do this through a comprehensive, coordinated portfolio of services and specialty pharmacy products, as well as member sharing of clinical and operational best practices.